*Your novel, POPE JOAN, explores the life of a controversial figure who may have been the first - and only - female Pope in history. How did you come across Joan's story?
Entirely by accident. I read a passing reference that I originally thought was an amusing typo ("Joan" for "John"--an easy "slip of the pen"). But a few weeks later, I had to drive my daughter to the library for a school assignment. While waiting for her, I had time to kill. Idle curiosity led me over to the New Catholic Encyclopedia, just to check on that odd reference to a "Pope Joan".
I didn't expect to find anything. So imagine my surprise when there was an entry for her! I stood in that library with my jaw dropped open. How was it possible that the story of such a remarkable woman had existed for centuries--and I hadn't even HEARD of her?

I knew immediately that I wanted to write about Joan. I couldn't believe I'd had the enormous good fortune to stumble across this extraordinary story!

*How did you go about researching the novel?
Given your own very well-researched novels, Michelle, I'm sure you know what a tough yet enjoyable process it can be. Historical research starts with easy-to-access sources, readily available in U.S. libraries--sometimes even from inter-library loan! From those, one garners references and bibliography that lead to harder-to-obtain sources available only in rare book rooms and special collections, often in other languages, sometimes in other countries. Fortunately, I can read French, Spanish, Italian, and some Latin, which was an enormous help.

*How much of the novel is based on fact and how much is fiction?
Joan's story is told like those of all the other 8th and 9th century Popes--in very abbreviated form. Chronicle records in the "Darkest of the Dark Ages" were written with uncertain ink on nubbly animal skin (for that's what parchment is). They were short and woefully lacking in detail. If you plucked one of these papal records off the hand-written page and put it into modern print, it would run about 10-15 pages.

So I had to build from a skeleton of a story. Writing historical fiction allowed me to put flesh on those dry old bones, to give this inspirational story laughter, smiles, tears--all the things that make a story human. I tried, however, always to base my "imaginative leaps" on what might reasonably be inferred from the evidence at hand. The details of the ninth-century setting, strange and savage as they now seem, are all factual.

*Tell us something surprising about women in Rome during the 9th century.
Women were widely considered to be incapable of reason. It was "unnatural" to teach a woman anything at all--even to read and write. The size of a woman's brain and of her uterus were thought to be "inversely proportionate"--that is, the more a woman learned, the less likely she would ever bear children (if only that were true, birth control would be a snap. You don't want to have a baby? Read a book!).
*What are you working on next?
Right at the moment, I'm very busy promoting the wonderful Three Rivers Press edition of Pope Joan, which was just released on June 9th. It's an entirely new version of the novel, with corrections and additions, a revised and updated Author's Note (with startling new evidence supporting Joan's actual historical existence), and a list of "Best of the Best" reading group questions, gathered from my many years of chatting with book groups all over the U.S., Canada, and Europe.
I'm also starting to promote the equally wonderful movie version of Pope Joan, which will be released this fall (it's by Constantin Film, the same company that filmed "The Name of the Rose").
Anyone who's ever dreamed of attending a movie premiere will be interested in my unusual "Win a chance to Walk A Red Carpet" offer, which you can see here: http://popejoan.com/2009promo.htm
And I'm also plugging away on my next novel, about another strong woman from history, this time from 17th century France. Perhaps the best way for me to sum up what drew me to Joan and my next heroine is with a quote from George Bernard Shaw:
"Reasonable people adapt themselves to the world. Unreasonable people persist in trying to adapt the world to themselves. Therefore, all progress depends on unreasonable people." (n.b. Shaw actually spoke of "reasonable and unreasonable men", so I tweaked this to make it inclusive of women).
Joan was certainly an "unreasonable" woman (and I mean that as a compliment). So is my next heroine--whose name I have artfully not mentioned (largely because my agent has told me she'll cut out my tongue if I do!). But I hope my readers will enjoy my next heroine's delicious "unreasonableness" as much as I do!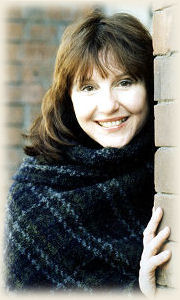 Thank you, Donna! And feel free to visit Donna online for more information about her amazing novel Pope Joan.