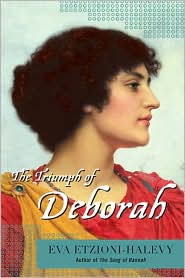 * In your latest novel, THE TRIUMPH OF DEBORAH, you tell the story of Deborah, a judge in ancient Israel. What was it about Deborah that compelled you to tell her story?
Deborah was the most eminent woman in the Hebrew Bible (The Old Testament.) She was a national leader: sort of a president, chief justice and chief rabbi, all wrapped in one, and deeply adored by the people. But what is special about her is not only her prominence, but the intriguing tale the Scripture tells about her.
Deborah orders warrior Barak to launch a strike against the Canaanites, who threaten their people with destruction. His response is rather unusual: he demands that she accompany him to the battlefield. Over three thousand years ago--a woman in the battlefield?

I found this to be very strange and suggestive. I asked myself: why did he really want her there? Moreover, she ended up going with him to his hometown as well. Yet she was a married woman and a mother, and there is nothing to indicate that her husband accompanied her.
I began asking myself: what did her husband have to say to that excursion? What would any husband say if his wife suddenly went off to distant parts with another man, leaving him to do the babysitting? It makes good sense that this created marital problems between them. Would they be able to overcome those problems? And what transpired between Deborah and Barak when they were together with no husband in sight?

These were the aspects of Deborah's story that I found most compelling, and they prompted me to write the novel. The questions are there in the bible and in my novel I provided my own answers to them.

* Tell us something surprising about the life of women in ancient Israel.
There are several things that I find astonishing about women in ancient Israel, as depicted in the Bible.
For one, the Bible is full of the most dramatic and the most traumatic stories about these women who lived thousands of years ago, and yet are so strikingly similar to us in their anxieties, hopes and desires. This led me to identify with some of them, and visualized their lives as if they were my own.
Also, they lived in a male-dominated society, in which they had few legal rights and their position in the family and society was dismal. Yet they were strong personalities, who did not just sit around and bemoan their fate. Instead, they took destiny into their own hands and shaped it to do their bidding.

Thirdly, and most surprisingly, several of them are described as very sexual personalities. They were not merely "sex objects" but initiated sex. Occasionally they did so as part of what we might call "sexual politics," in order to gain power and obtain various objectives in life.

For all these reasons I decided to hand them a "loudspeaker" by writing novels about them, so that their voices could be heard loud and clear across the generations. I wrote about them as I think they deserve to be written about: stories of love, betrayal and redemption through more love, which are yet totally faithful to the Bible, for which THE TRIUMPH OF DEBORAH is the most recent example.

*In what ways does Deborah defy the conventions of her time?
In the teeth of the conventions for women prevailing at the time, she "cracked the glass ceiling" over three thousand years ago and achieved the highest position of leadership in the nation. She led her people to war, when it was necessary and to peace, when it became possible.
Remarkably, she did so without losing her femininity. In "The Song of Deborah" (in the book of JUDGES), she refers to herself not as a prophetess, not as a judge, not as a leader, but as "a mother in Israel."

In all this, Deborah can serve as an inspiration for us today. Of course, not every woman wants to become a national leader. But what contemporary women can learn from Deborah—as portrayed in the Bible and amplified in my novel—is that no matter what the field in which they choose to realize their potential, no matter what is right for them, they can draw on their inner feminine strength to achieve their goals.
* How much of the novel is based on fact and how much is fiction?
Let me say first that the novel is not just for Bible lovers. It is for anyone who likes an enjoyable read. It is a light story of love and suspense, with a twisting plot, written first and foremost for reading pleasure. Yet it does not deviate from the Scripture by even a hair's breath.

At the same time, the story of Deborah in the Bible is brief, and I had to fill in the blanks. I did so through research, which included visiting the spots in which the plot of the novel took place. I did not have to travel far, since I am so fortunate as to live "on location" so to speak, that is, in the Holy Land. It was awesome to see, for instance, the castle in which part of the story takes place still in existence, though in ruins!
I also filled the gaps through my imagination, but most of all through my identification: the unfathomable feeling I had done some time travel, that I had actually been there, and that this is how things truly happened!
*What are you working on next?
I am now working on a novel about Tamar (the second Tamar in the Bible), the daughter of King David, who was the victim of incestuous rape by her brother. I want to show her trauma and how she rebuilt her life afterward, but I am still struggling with this and it is still far from publication.
Thank you, Eva! And feel free to visit Eva online for more information about her latest novel THE TRIUMPH OF DEBORAH.